Meet the Team • Law Offices of Tina Fryling in Erie, PA
Meet the legal team at the law offices of Attorney Tina Fryling in Erie, PA. If you're interested in setting up a free initial consultation with our team, contact us today to get started.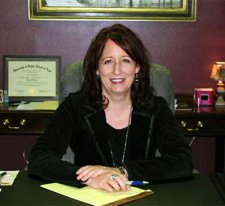 Owner/Attorney
Tina M. Fryling, Esquire, has been practicing law in Erie, Pennsylvania since 1995 with a specialization in bankruptcy. A native to the region, Tina has strong ties to the Erie community at large, as well as being actively engaged in the local legal network. She has previously worked for a Chapter 7 bankruptcy trustee, and has been representing bankruptcy clients since 1996, following a clerkship with the Honorable Fred P. Anthony of the Erie County Court of Common Pleas. She also has authored a constitutional law textbook textbook titled Constitutional Law in Criminal Justice that is being used by universities across the country. A dedicated and hard-working attorney, Tina takes a hands-on approach to her cases, devoting time to her clients to answer questions, find the best solutions for their current situations, and help de-stress what can often be a very anxious process.
Legal Assistant/Notary Public
Christine is an authorized Notary Public, and can notarize legal documents such as wills, powers-of-attorney, deeds, or decrees. She also serves as Tina's Legal Assistant, manning the phones, greeting clients, dealing with the mail, and helping prepare paperwork and other documents. A transplant to Erie, Chris is originally from the upper Midwest, born in Minnesota and raised in Wisconsin, but she is a Great Lakes girl at heart and so feels right at home in Erie. Chris also holds a PhD in History and taught for almost 20 years at the college level. You will find Chris' creative touch on the office, from the purple tones on the reception walls and the decorative swags (which she made), to the eclectic mix of music brimming from the iPod.