Dispelling Common Bankruptcy Myths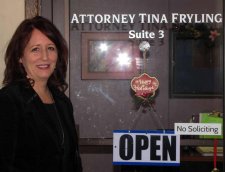 The idea of filing for Bankruptcy often strikes fear in the hearts of those who are facing financial challenges. Many believe the list of myths that are attached to filing, and therefore hesitate to take the appropriate steps to regaining a firm financial footing. Attorney Tina Fryling is experienced in handling bankruptcies with compassion and sensitivity, guiding clients through the sometimes confusing process with as little anxiety as possible. Attorney Fryling has helped clients restore their financial future since she began practicing law in 1995.
Here are a few of the more common bankruptcy myths dispelled:
Filing for bankruptcy destroys your credit for as long as ten years. While it is true that a bankruptcy filing stays on your credit report for 7 to 10 years, you can start rebuilding your credit immediately after the discharge of your bankruptcy.


Filing for bankruptcy means you will lose everything you own. While bankruptcy laws vary by state, all states protect certain assets such as your house, car, retirement plan, household goods, and clothing. Attorney Fryling can help you protect your personal property.


People who file for bankruptcy are using the system. Job loss, catastrophic illness, natural disasters, and other unexpected events can often place undue hardship upon individuals that cause them to face financial crises. Over one million people file for bankruptcy each year, and bankruptcy provides the fresh start these people deserve but are unable to obtain without court assistance.


Filing for bankruptcy is complicated. While there is a lot of paperwork involved in a filing, Attorney Fryling can make the process relatively painless for you to complete. Her experience with bankruptcy makes her well-equipped to ease you through the process.


All bankruptcy options are the same. In fact, there are a number of different filing options for Bankruptcy, including Chapter 7, Chapter 11, and Chapter 13. Each option has unique requirements and processes for completion, and Attorney Tina Fryling can help determine which route is most appropriate for your unique situation. She offers a free consultation to discuss your situation and determine what route might be right for you.
Attorney Fryling strives to put a human face on common financial difficulties, meeting personally with each client to understand their concerns and needs to ensure that they receive the best representation possible. Attorney Fryling dedicates a majority of her law practice to bankruptcy, and she has protected hundreds of people from losing their homes, cars, and personal property, while also putting an end to creditor harassment.
"I take a very hands-on approach with each client and case that I handle. I devote as much time as necessary to answer all of your questions, find the best solution for you, and explain the process every step of the way...I focus on the quality of the representation I provide. I really care about my clients. Compassion. Competitive fees. I work hard for you to achieve a fresh financial start!"
We are a Debt Relief Agency helping people file for relief under the Bankruptcy Code.
This Insight was written by Christine Kern, Legal Assistant at Fryling Law Offices.